What is a clan?
This part is going to explain you what is a clan and how it works.
This is a very important question since it defines the relationships between individuals of the same clan. The word "clan" actually comes from Gaelic "clannad", the "children". These are the children and descendants of a person. This is why many Scottish clans have in their surname "mac" which means "son of".
To enter a clan is to enter a family. We represent every day, every moment this clan and its Chief. We carry his values.
In France, Scottish clans have been represented since the beginning of the 2000s. They have opened adoptions, which means that anyone wishing to be part of it can apply for it … Being a member of a clan commits and engages you and your descendants; it is not a decision that one takes on a whim; on the contrary, it must be carefully thought out.
A clan is recognizable to its tartans. These are defined (and immutable) colors and patterns that have been created over time. The colors and patterns are similar to heraldry; they have a meaning as well as a precise history. Some tartans of our clan have a story related to that of another clan. Here is a comparison chart of what a clan is and what it is not.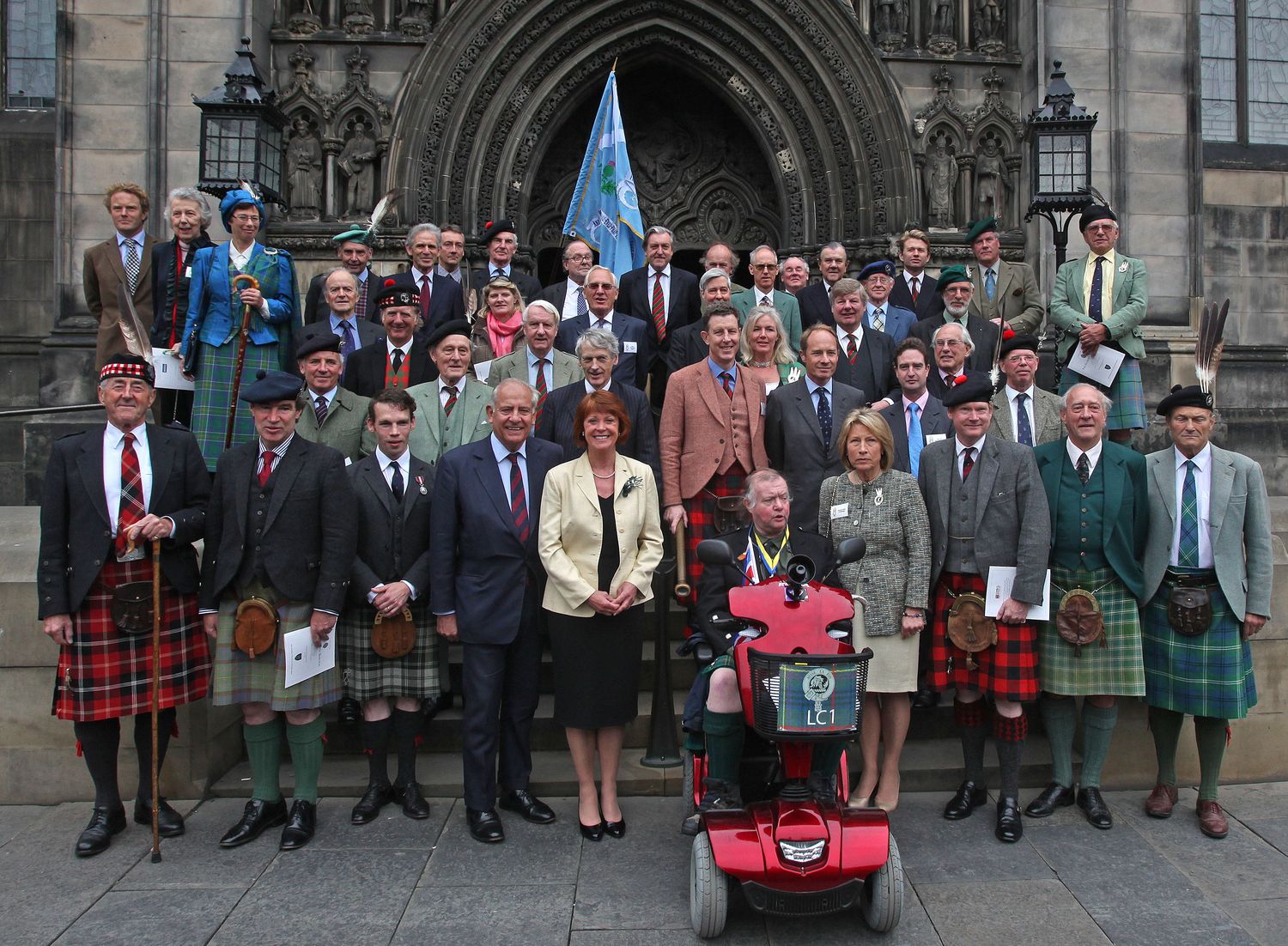 A family ; it concerns spouses, wives, children, grandchildren … This family is international; there are Ramsay in Scotland, in Europe, in the United States, in Australia … When a Ramsay from one country moves to another country, he can warn the members and thus meet on behalf of the clan. The clan spirit is very strong.
Rules of social conduct ; a clan generally demands exemplary conduct. Between the members of a clan and the clans themselves, the greatest respect is required and the clansmen are clearly asked to have gentlemanly conduct. Between the clans themselves, there reigns a strong spirit of fraternity.
Rules of political and religious conduct ; it is customary for no one to express himself politically or religiously in the name of the clan. On Scottish independence, discretion is required. Religion does not intervene in the life of the clan.
Joint activities ; our clan offers throughout the year various activities punctuated by two highlights: The Burns that brings the clan at the end of January in memory of the poet Robert Burns, we eat haggis while drinking whiskey and the Franco-Scottish Festivals, mid-July when we meet the other clans.
A minimal contribution ; lit is about 30 € and is not intended to be higher… Members can make donations but it remains an affordable contribution so that members of the clan can participate in his life. The contribution is family; it concerns all members of a household.
It is a dress code ; the members of the clan identify with their tartans, how to wear it and how to dress. There is a deep respect for the symbols of the clan, its tartans and the values ​​they convey.
It is also a respect of its rules ; clan members are held to the extent of their ability to follow the clan's direction when it is proposed.
A club ; a place where only people of a certain category meet to do what they want. The rules of operation are very different. Clans and their branches are run by appointed and unelected people. Operation is not democratic. Moreover, some clans do not work in association because the 1901 law is not necessarily compatible with clan laws. The clan dues are minimal, which are not usually those of the clubs.
A group of friends ; it is above all a family. We go back for the clan, because we want to be part of the family and not to spend evenings with friends by finding an excuse to do so. It is for this reason that there can be no guarantee of friendship between branches of the same clan; it's a family…
An association of kilts wearers ; Those wishing to get together with friends to carry kilts or even to design their own tartan can meet in kilo carrier associations. There are some in France and some clansmen or clanswomen also belong to an association of kilt bearers.
A Masonic Lodge ; a clan is generally not related to Freemasonry. Some members can be part of this old brotherhood, it is not incompatible with their commitments. However, this has nothing to do.
A unisex association ; it concerns the home, the couple and their children. Women and men have the same rights and duties within a clan. Some clans also have women as clan chiefs.
A place of protest ; the clan has its obligations and its members are asked to respect the decisions taken. The clan system is not democratic.
Clan laws
Here are some questions and answers from the website of Lord Lyon (the King of Arms of Scotland) that shed light on some aspects of clan life.
Who is a member of a clan? Every person who has the same surname as the chief is deemed to be a member of the clan. Equally a person who offers allegiance to the chief is recognised as a member of the clan unless the chief decides that he will not accept that person's allegiance. There is no official list of recognised septs. This is a matter for each chief to determine. But where a particular sept has traditionally been associated with a particular clan it would not be appropriate for that name to be treated by another clan chief as one of its septs.
Is a crest the same thing as a Coat of Arms? The word 'crest' is often used as a general description of a coat of arms but this is not correct. A crest is one part of a heraldic design. It is the symbol which appears on top of the helmet which itself is on top of the shield. The shield contains the main part of the Arms.
What tartan can I wear? That depends on which clan you belong to. Strictly speaking you do not have the right to wear your mother's tartan unless you have taken her surname. You can only belong to one clan. If you do not belong to any particular clan you may wear a district tartan if you are descended from an ancestor belonging to the district concerned. The district tartans are Lennox, Huntly and Strathearn. Otherwise you may wear the Jacobite, Caledonia, Black Watch or Hunting Stewart.
What is my clan Coat of Arms? A clan cannot have a coat of arms. The Chief of a clan has his or her personal coat of arms but that belongs to the chief and cannot be used by anyone else. What a member of a clan may use is a badge consisting of the chief's 'crest' , within a belt and buckle design. The belt shows the chief's motto on it.
Who is my clan chief? First of all you have to decide which clan you belong to. If your surname is the same as the name of a clan then you will want to be part of that clan. If your surname is different then your surname may be that of one of the septs which a particular clan chief has recognised as falling within his clan's wider family. If your surname is different from any of the recognised septs then it is for you to decide which clan you may wish to give your loyalty to. That is your personal choice. If you wish to know the name of the individual who is chief of a particular clan, the list of chiefs appears in the annual publication called Whitaker's Almanack.
Can everyone who is descended from someone who had a coat of Arms use it? No. A coat of Arms belongs only to one person at a time. It passes from the owner to his eldest son and then to his eldest son and so on. Other members of the family may, depending on their relationship and their surname, be able to apply for a 'differenced' version of the Arms to be granted to them by the Lord Lyon. If you think that you are in this position you should write, giving details of the circumstances, to the Lyon Clerk, Court of the Lord Lyon, HM New Register House, Edinburgh EH1 3YT.