Our Symbols
Each clan has its own symbols; they are intended to give a common reference to all its members. The Ramsay Clan, like the other clans, has its own symbols.
We invite you to discover them…
The clan badge
Clan members can show their allegiance to the clan by wearing a badge representing the Clan Crest. The insignia of the crest usually represents the heraldic crest of the chiefs surrounded by a belt and a buckle.
The crest and the motto in the insignia are the heraldic property of the only Clan Chief. Wearing such a badge, the members of the clan show their allegiance to their Chief. The crest represents a silver unicorn's head, cut and armed with gold.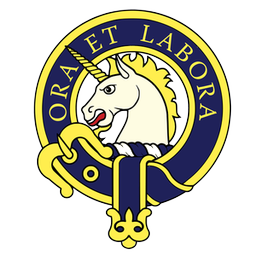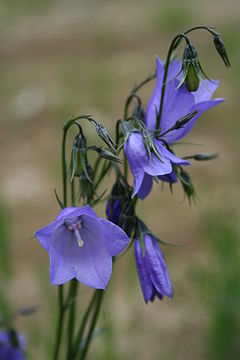 Our vegetal symbol
Another symbol of the Clan is the plant. This is a branch of harebell worn with the crest on a bonnet. It is a blue harebell.
Its definition in Wikipedia is :
Campanula is one of several genera in the family Campanulaceae with the common name bellflower. It takes both its common and its scientific name from its bell-shaped flowers—campanula is Latin for "little bell".
The genus includes over 500 species and several subspecies, distributed across the temperate and subtropical regions of the Northern Hemisphere, with the highest diversity in the Mediterranean region east to the Caucasus. The range also extends into mountains in tropical regions of Asia and Africa.
Our Chief's coat or arms
It is his own coat of arms. The heraldric description is "argent an eagle displayed Sable beaked armed membered and langued Gules".
Accordingly to the heraldric laws and rules, this coat of arms is strictely personal.
Tartans
The most popular of the tartans attributed to the Ramsay name comes from the Vestiarium Scoticum published in 1842. Although it has been proven that the Vestiarium was a misinformation of the Victorian era, many clan tartans come from it. Here are some tartans still in use in the Clan:
Hunting Tartan
The blue Ramsay tartan is the one that is traditionally used for hunting.
It is a tartan that is very popular.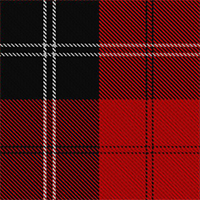 "Dalhousie" Red Tartan
"Dalhousie" tartan. This one is used during formal meetings.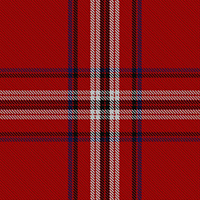 Red "Angus" Tartan
Red "Angus" tartan is the one of the Angus & Mearns baronies.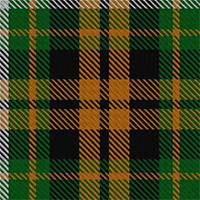 "Modern" Orange Tartan
Orange tartan is a modern hunting one.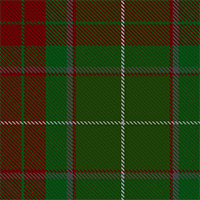 Green Tartan
Green tartan is few used. He is, however, one of the official Clan Ramsay tartans. We can think that it was also used for hunting.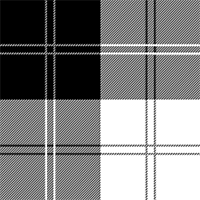 Black & White Tartan
The white and black tartan is a modern creation by Eleanor Ramsay. This tartan is shared with the Clan Erskine.